SMSF's 4 most popular crypto investments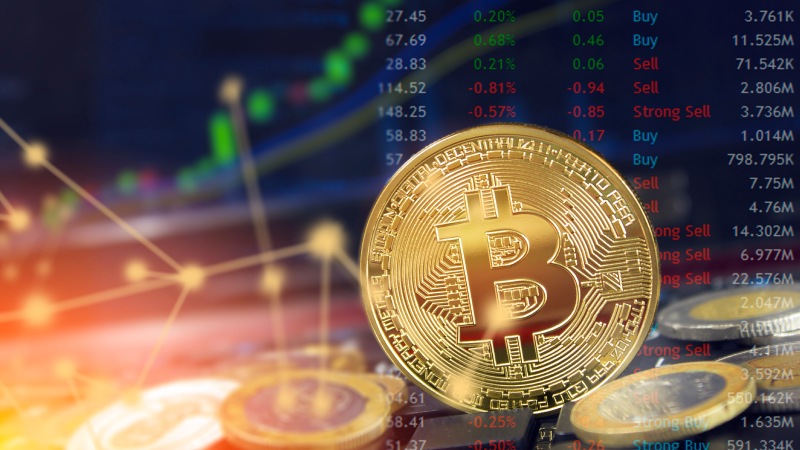 Promoted by Digital Surge
Cryptocurrency has taken the investing world by storm and SMSFs are no exception. Increasingly, SMSFs are turning towards digital currencies as an investment and a new asset class.
While crypto's rise has had the spotlight firmly placed on Bitcoin, data shows that Bitcoin is no longer the only reason people are flocking to digital currencies. Currently, there are thousands of cryptocurrencies on the market, each with the goal of solving a specific problem in the market or offering some real utility to the world. While only a handful of these cryptocurrencies are destined for greatness, many projects like Ethereum, Solana and Terra have established themselves as legitimate investments with a use-case that are in high demand.
Already have an account? Sign in below:
With cryptocurrency continuing to gain institutional and mainstream adoption, education about how cryptocurrency works and what each cryptocurrency brings to the table is becoming increasingly important. This article seeks to conveniently break down the top 5 coins that SMSF investors have chosen to add to their portfolios through the popular Australian crypto exchange Digital Surge.  
Digital Surge  
Digital Surge is a safe and trusted cryptocurrency exchange that provides direct access to Australians wanting to buy Bitcoin and over 300+ other popular cryptocurrencies. Along with low fees, excellent customer support and a variety of other features, Digital Surge has taken it upon themselves to simplify SMSF crypto investing for SMSF Customers, adding a number of features that cater specifically to SMSFs. 
 
Since building out their SMSF compatibility back in October, which includes seamless tax and compliance features, EOFY reports and account statements, their new monthly SMSF users have increased 25x, establishing them as one of the premier options for Australian SMSFs looking to diversify into the exciting asset class of cryptocurrency.  
SMSF's 4 most popular Cryptocurrency investments on Digital Surge
   1.  Bitcoin (BTC)  
The no. 1 crypto SMSF investment remains the original cryptocurrency. Bitcoin (BTC) is the largest and most popular cryptocurrency in the world and is seen as the 'safest' way to invest in crypto. Bitcoin emerged in 2009 after the global financial crisis and acted as the world's first non-physical, electronic form of currency whose ledger of transactions and balances were securely kept on a public ledger aka the Blockchain. 
While Bitcoin is known as a decentralised digital currency that does not require the involvement of a bank, the term 'Bitcoin' actually refers to two separate things: 
 

The Bitcoin cryptocurrency (BTC): The digital coins that can be bought, sold and spent online.

 

 

The Bitcoin network aka the '

Blockchain

' that powers Bitcoin: The technology that gives Bitcoin its value and practical applications, acting as a public record for all transactions.

 
Like all decentralised digital currencies, all of Bitcoin's transactions are permanently stored on an online ledger and are verified by a huge network of computing power. The Bitcoin network allows users to send, store and receive money securely – without the need for a bank, and without needing to trust the person they are sending/receiving to. Transactions can occur trustlessly – both parties need not trust one another if they both trust the technology behind Bitcoin. 
 
To this day the Bitcoin network has never been successfully hacked or breached, giving users of the digital currency confidence when it comes to sending, receiving and holding Bitcoin. While Bitcoin's rise has been a bumpy ride, over a decade after its inception, Bitcoin's popularity and value continue to grow – and due to its deflationary nature, many experts believe Bitcoin has yet to achieve the widespread adoption it is destined for.    
   2.  Ethereum (ETH) 
While Bitcoin has become a household name, Ethereum follows closely behind. Ethereum (ETH) is the second largest crypto by market cap and the silver to Bitcoin's gold (though many believe that Ethereum may soon take the spot of no. 1 for several reasons). Ethereum is not your average cryptocurrency. Unlike Bitcoin and other cryptocurrencies, Ethereum is a currency as well as a platform that facilitates the creation of smart contracts, decentralised applications and other cryptocurrency projects. 
While this might be hard to understand for the average investor coming from the world of traditional finance, Ethereum is essentially a decentralised version of the internet where people can interact, share and create anything you can think of without middlemen and third parties being involved. For the first time in history, Ethereum has provided crypto a secure place for people to come together and build smart contracts, decentralised applications (Dapps) and a range of other projects that were never possible before. For this reason, it has grown to be the second largest cryptocurrency and has opened the doors to a world of new possibilities.   
Ethereum can be thanked for a large portion of the crypto market's total growth and though there are many other cryptocurrencies that market themselves as Ethereum alternatives, Ethereum is seen as another crypto investment.  
   3.  Solana (SOL) 
Now that we have established why Ethereum is such a popular investment choice, one can understand why promising Ethereum alternatives might also make sound long-term investments. Despite notions of a single blockchain being used by everybody everywhere, the past few years have shown that the market has enough demand for several blockchains to flourish.  
Solana is a smart contract platform like Ethereum, but with a few key differences. In the world of cryptocurrency, scalability is one of the biggest challenges. As Blockchain networks grow and onboard more users, they are faced with limitations in terms of transaction speed and confirmation times. If blockchains are going to go truly mainstream this is one of the main obstacles that stands in their way – which is why Solana places a strong emphasis on its scalability and transaction speed.  
Solana's Blockchain network can handle thousands of transactions per second without compromising security or decentralisation. Bitcoin can handle seven transactions per second (tps), Ethereum can handle around twelve. Solana on the other hand, according to developers, is capable of 50,000 tps.  
   4.  Cardano (ADA)  
Cardano (ADA) is number four on the list of the top SMSF crypto investments. Much like Solana, Cardano is another blockchain and smart contract platform with a few of its own unique selling points. Although Cardano's blockchain is still in development, it boasts a world-class team of developers and advisors (including the notable co-founder of Ethereum, Charles Hoskinson). Many investors have put money into Cardano as they believe the team's unrivalled dedication to peer-reviewed research will allow the project to succeed in the long run.  
Another point of difference of Cardano is its commitment to sustainability. Many cryptocurrencies running on the 'mining' or 'Proof of Work' method have faced much criticism due to the heavy environmental impact this method causes. Where Ethereum is working hard to transition away from the Proof of Work model, Cardano has started with the efficient and sustainable 'Proof of Stake' model and is hoping to avoid the mistakes of similar blockchain platforms.   
Cryptocurrency in Australia  
Cryptocurrency has taken the world by storm, and Australia is no exception. In fact, Australia ranks third out of 22 countries in terms of cryptocurrency ownership, according to the Finder Cryptocurrency Adoption Index. According to Finder's results, the global average of crypto ownership is 11.4%. In Australia, it is estimated that nearly one in five (18 per cent) adults own some form of cryptocurrency, a number which has been rapidly increasing over the past few years. 
In recent months, crypto has been hit extremely hard, enduring a number of sharp 20% drops. Despite this, Bitcoin has still managed to outperform the majority of managed funds over the past three years. High growth funds (funds with 81-95% in growth assets) have performed at an average of 7% over the last 3 years, whereas Bitcoin logged an impressive return of 940% (from $4081 to $42492 in three years).  
 
The latest Australian Taxation Office (ATO) data also shows a steady increase in cryptocurrency assets held by SMSFs. As of the September quarter 2021, some $228 million was invested in the asset class, up from $212 million in the June quarter.