What SMSF firms can learn from TripAdvisor
What's the key to building trust with potential SMSF clients in an increasingly connected world?
A search for 'authenticity' online delivers a number of definitions, primarily that it means something is "not false or copied; genuine; real; having an origin supported by unquestionable evidence; authenticated; verified."
Already have an account? Sign in below:
As a human it's a quality you want your friends and family to have. As a business owner it's a brand perception you want your customers to have. As a customer it's an attitude you want your preferred suppliers to have.
Essentially it engenders trust. If you've identified someone as being authentic, you are more likely to trust them.
It's trust that allows us to navigate the uncertain and complex world we live in today. It's integral to developing happy, meaningful, and successful relationships. From a professional perspective, when you trust your colleagues, you form a powerful bond that helps you work and communicate more effectively.
With the rise of the internet, mobile phones, email, chat and social media, it's never been easier for people to connect and communicate. However, it's a double-edged sword. As a brand it might be easier to connect with customers, but it's harder to demonstrate why customers should choose you from all the other brands, especially if they don't know if they can trust you. That's where customer feedback comes in.
When you think of businesses that use customer feedback, TripAdvisor often comes to mind. Their business is the collection and promotion of customer feedback. Sixty million consumers visit their websites every month. Feedback from other customers is highly sought after, particularly if it's from multiple customers because then there's consensus. Customer feedback = social proof = authenticity = trust.
TripAdvisor is popular is because it's a realistic representation of the customer experience. Why is it realistic? Because it's rare that any of the listed properties, venues and providers will have all 5/5 stars.
The number one ranked hotel in Phuket, out of 781 venues, has 844 reviews. Not all of them are stellar. While that's a scary prospect for a business, it's realistic. It's important to remember that client feedback is based on the client's experience. It's understandable and expected that everyone's experience will be different. Expectations are different. Requirements are different. Behaviour is different. Outcomes are different.
Consumers understand this. In this day and age, they actually expect to see this. It's proof of authenticity. Perfect scores tend to imply dishonesty or selective honesty. What counteracts the poor ratings for the hotel in Phuket is the consensus that, overall, the venue is excellent.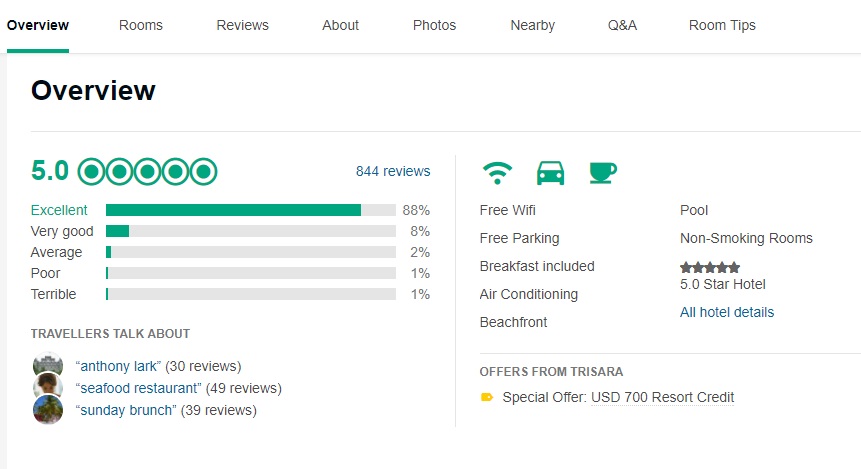 Another lesson to take from TripAdvisor is that quantity and consistency are important. They want their consumers to have access to multiple, recent reviews in order to form a balanced opinion and make more confident decisions. With this in mind, what impression are you giving prospective clients if you only have feedback from a handful of customers, from 6 or more months ago?
So, what does this 'warts and all' approach deliver?
1. Transparency.
2. Trust.
3. Realistic expectations.
4. Opportunities to improve.
We strongly encourage accounting and advice firms to be authentic. If ratings from your clients range from 2.7- 4.9 out of 5, share that. Tell your clients where you rate the highest. Tell them where you rate the lowest, and what you're doing about that. Put yourself in the client's shoes – would you tend to trust a business that's consistently developing in line with client feedback, or a business that believes its already perfect?
Lastly, you need to consider the future value of your business. If you're not capturing feedback from all your clients, how are you generating accurate insights? What are you basing key business decisions on? How are you identifying pain points to create a better experience overall? You're in the business of numbers, so you understand that a larger quantity of data offers a more statistically meaningful result.
Capturing client feedback from all your clients is imperative to achieving the best outcomes for your practice. It's also the only way to truly be authentic.
Simone Poulter, head of growth, Valuiza