A snapshot of residential property markets
With headline growth rates likely to trend lower in the Sydney and Melbourne property markets, SMSF investors may want to look further afield for capital gains prospects and healthy rental yields.
The national housing market is cooling down after a stellar five and a half year run of dramatic capital gains which have been mostly concentrated within the Sydney and Melbourne housing markets. The September quarter saw capital city dwelling values rise by only 0.7 per cent; less than half the rate of growth over the June quarter (1.6 per cent) and well below the recent peak rate of growth which was recorded at 4.2 per cent over the three months ending November 2016.
You're out of free articles for this month
To continue reading the rest of this article, please log in.
Create free account to get unlimited news articles and more!
Since the beginning of 2012, national dwelling values have increased by 40 per cent. Over the same period, Sydney values are 74 per cent higher and Melbourne values are up by 56 per cent.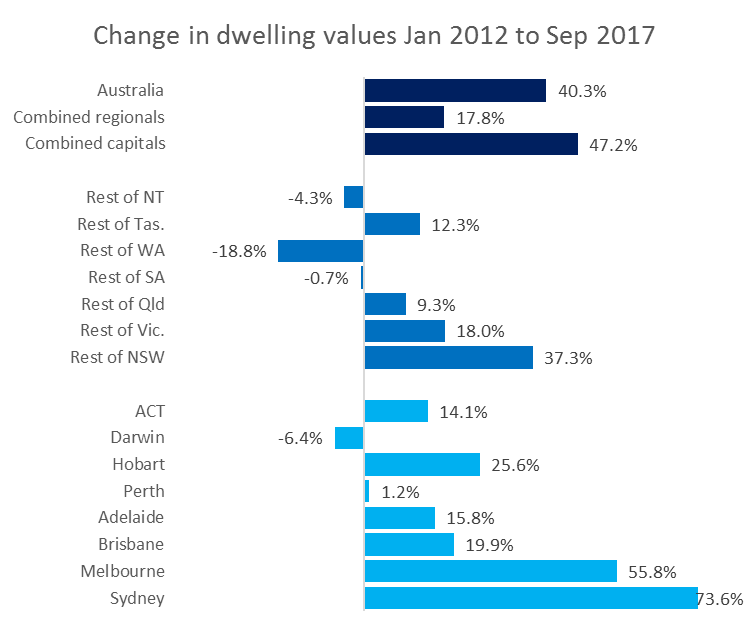 Home owners in Sydney and Melbourne have accrued a great deal of equity thanks to the dramatic capital gains, however other regions have seen dwelling values rise at a more subdued pace, or in some cases values have trended lower.
Clearly, the performance of the housing market is very different from region to region and across the different product types and spectrum of values.
With the pace of capital gains slowing down, investors may be reconsidering where they place their capital. While housing, particularly in Sydney and Melbourne, has been a preferred option for many investors, prospects for lower capital gain coupled with low rental yields, tighter credit policies and mortgage rate premiums are likely to act as a disincentive.
The safer asset classes of cash and bonds are providing only mild returns, while equities remain volatile. For this reason I wouldn't be surprised if a large proportion of investors continue to look for opportunities within the property sector.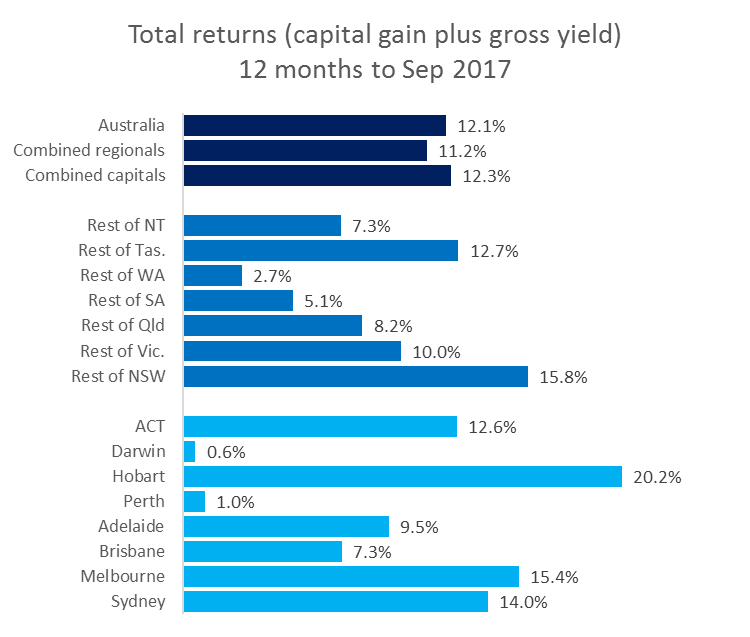 However, investors may start to pay more attention to the total property return, rather than exclusively focusing on prospects for capital gain. The total return or accumulation index provides a broader measurement of the housing markets performance, including the gross yields as well as capital gains.
Hobart stands out as the most lucrative market on this measure, providing both a solid capital gain over the past 12 months, but also a healthy rental return. Hobart's rate of capital gain has been accelerating while the pace of growth in Sydney and Melbourne has been slowing. The Canberra housing market has also gathered some momentum over the past 12 months and both Hobart and Canberra offer investors' superior rental yields than those in Sydney and Melbourne.
Countercyclical opportunities are also becoming apparent for buyers looking to purchase at the bottom of the cycle.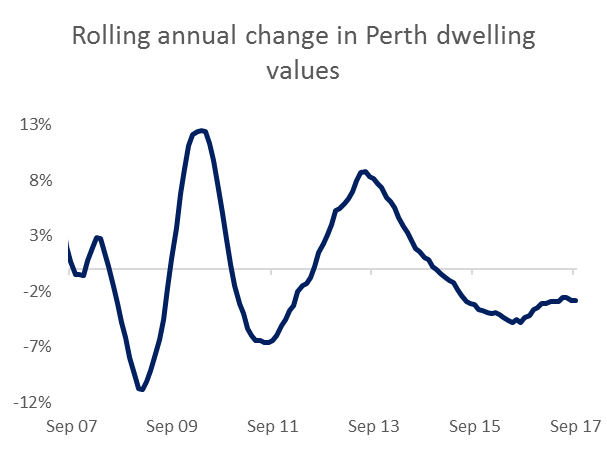 Take the Perth housing market as a good example. Dwelling values have fallen by almost 11 per cent across the Perth market since peaking in mid-2012. While the trend across Perth is still negative, the month of September saw Perth dwelling values edge higher, and the annual decline in dwelling values has been losing steam, suggesting the market may be close to bottoming out. In line with a reduction in the rate of decline, there has been a substantial reduction in advertised housing stock, vendors are discounting their asking prices less and transaction numbers are trending higher
Regional markets are also starting to show more positive growth trends. Lifestyle markets in particular are seeing increased demand from buyers seeking holiday homes or retirement options as well as investors. Anecdotally, it seems the coastal and lifestyle markets are benefiting from the equity accrual realised in Sydney and Melbourne as well as a marked improvement in tourism numbers.
Some of the most iconic coastal markets have recorded substantial increases in the value of housing over past 12 months. Byron Bay is a prime example where house values are more than 26 per cent higher over the year. Coastal markets within close proximity to a major capital city appear to be the most popular, with strong results also evident in regions such as Newcastle, Wollongong, Geelong, the Gold Coast and Sunshine Coast.
The investment options across the housing market are varied and it's highly likely that more investors will start looking further afield than Sydney and Melbourne in the search for capital gain prospects as well as healthy rental yields. Headline growth rates are likely to trend lower and may turn negative in markets like Sydney and Melbourne where growth rates have been so high, however strong population growth and low mortgage rates are likely to keep a floor under housing values to some extent in these markets.
By Tim Lawless, head of research, CoreLogic Asia Pacific