Keeping SMSF clients wary of home bias
SMSFs' heavy allocation in Australian equities continues to place them at risk of missing out on growth opportunities in the future. How can practitioners help trustees adjust their portfolios?
The ATO website has updated information on the actual investment strategies of SMSFs as at June 2015.
You're out of free articles for this month
To continue reading the rest of this article, please log in.
Create free account to get unlimited news articles and more!
The allocation of investments within SMSFs can be seen in the chart below sourced from the ATO website.
Asset allocation of SMSFs as at June 2015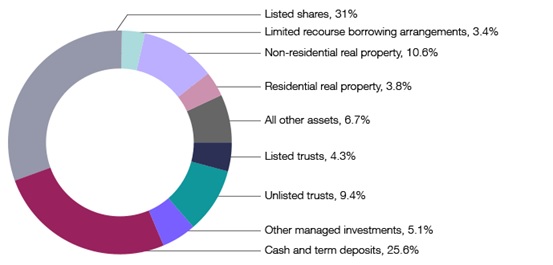 What stands out to us is what would seem like a parochial bias towards Australia, and in particular the Australian share market with 31 per cent allocation, and further exposure to Australian shares probably via listed and unlisted trusts and other managed investments. We will spare readers the lecture that the ASX is dominated by banks and resources companies, offering reduced diversification and potential sources of earnings growth to investors.
This is intriguing when compared to the composition of Australia's Future Fund that was created many years ago by Peter Costello. Less than a quarter of the Future Fund's exposure to share markets is held in Australian shares.
The table below outlines the current investment strategy of the Future Fund which in some respects is similar in purpose to SMSFs in that it is to provide for long-term obligations.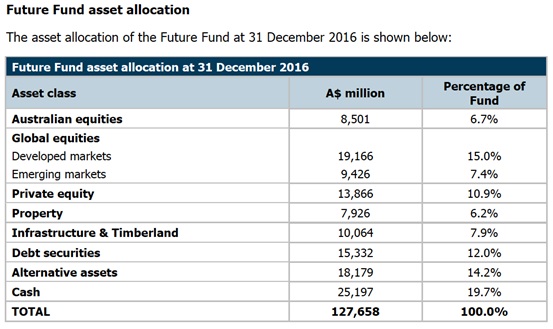 A recent research piece from JP Morgan, focusing on expected returns in the decade ahead (light green) versus returns of the past decade (dark green), supports the allocation of the Future Fund.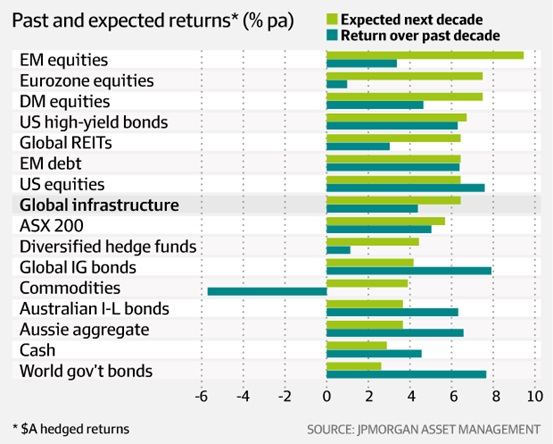 The challenge for SMSF practitioners is getting their clients to adjust their investment strategy towards generating returns in the future rather than simply extrapolating the past.
Accounting firm PwC recently completed a study that was projecting future economic contribution from the top countries in the world between now and 2050. Australia, currently ranked 19th in economic output, is projected to slip to 28th by 2050.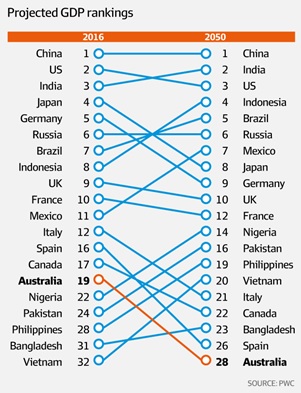 With Bangladesh, Pakistan, the Philippines, Nigeria and Vietnam projected to overtake Australia in terms of economic contribution, we question the historic wisdom of trustees in allocating the majority of their portfolio to 'blue chip' Australian shares. 
We can only hope that Bangladesh is not forecast to overtake us in test cricket in the years ahead, but that did not form part of PwC's study.
SMSF practitioners should encourage their SMSF trustees to consider a global perspective in forming their investment strategy to reduce the risks of putting too many eggs into one geographic region.
Mark Draper, adviser, GEM Capital Financial Advice