HALO Technologies Holdings Ltd IPO is open to investors till 4 April 2022 and filling fast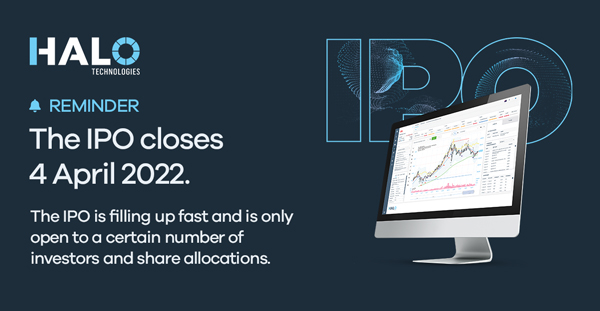 Promoted by Halo Technologies
Investor software solution provider HALO Technologies plans to raise $35 - $40 million through an ASX listing later this month. The company intends to deploy the capital towards growing its direct and third-party distribution channels and the acquisition of complementary business, in Australia and overseas. Lodge Partners has been appointed as Lead Manager for the IPO.
Already have an account? Sign in below:
HALO Technologies includes two distinct but integrated offerings in HALO Global, designed for hands on investors who want professional grade tools without the cost, and HALO Trading which offers ready-made themed investment portfolios that are ideal for 'low-touch' and 'values based' investors and SMSFs. Halo Trading was formerly known as Macrovue and began its life in the AMP incubator program.
HALO products are sold directly to consumers or co-labelled with financial advisors and distributed through third-party networks. The business was founded by Matthew Roberts, George Paxton and Nic Bryon - seasoned financial market professionals with extensive experience in private equity, stockbroking, funds management and equities research.
Unique product offerings and fast-growing client base
"HALO has a demonstrated track record of revenue growth, with a CAGR of 215% in Pro Forma Revenue from FY2019 to FY2021. HALO Global grew its subscriber base by 74% in FY2021, while HALO Trading has grown its thematic portfolio's registered user base 9-fold since it was acquired by HALO Technologies in May 2019," said George Paxton, Chief Executive of HALO Technologies.
"HALO Global provides an array of tools for investors seeking to discover and research global investment ideas, manage their portfolios, access market analysis and offers in-built trade execution capability. We believe it's an essential tool for the self-directed investor and a must have for financial advisors in Australia and overseas," added Mr Paxton.
Themed portfolios with beneficial ownership
Halo Trading is the only known Australian investment software solution that allows Australians to invest directly in the best global companies and trends via customisable thematic share portfolios called "Vues". 
Expert analysts use a blend of quantitative tools and fundamental research processes to find quality global shares that best reflect a theme. Its professionally constructed portfolios have been designed to invest in megatrends impacting the global economy, such as Artificial Intelligence, Car of the Future and Clean Technologies. 
Thematic investing meets strongly growing demand from values-based investors. In particular, Millennials and younger investors are increasingly focussed on the social impact of the investments they make. This trend has led themed portfolios to increase in popularity. 
"HALO Trading's thematic investment portfolios provide a high level of transparency and control for investors who want to combine the ease of ready-made portfolios with certainty that the activities of the companies they hold are consistent with their personal values and interests, said Matt Roberts, Co-Founder of HALO and Managing Director of aaig.
"Themed investing is also easy to use for SMSFs, with ready-made expertly selected portfolios and in-built tax reporting tools. Unlike an ETF or managed fund, the client is the beneficial owner of the shares, so dividends are paid directly into their account," he added. 
True diversification and outstanding returns
The global diversification facilitated by high grade analysis software and themed investment portfolios can significantly increase returns without a corresponding increase in risk.
"The ASX represents only 2% of global listed equities and does not include some of the world's most profitable companies and industries, making meaningful portfolio diversification impossible without investing in offshore companies," said Nic Bryon, Co-Founder of HALO Technologies.
"Themed portfolios have delivered outstanding performance. Selected Vues have recorded 12-month total returns to the end of February of 55.3% (Big Oil), 33.7 (High Quality), 28.4% (5G wireless technology), 28.0% (Warren Buffet top 10), and 25.1% (Silver Haired Economy). The International High Yield Vue is currently delivering a yield of 5.9%, and a 12-month total return of 23.4%", said Mr Bryon. 
If you would like to learn more about the IPO, you can download the prospectus and apply for shares on our website.