Gain exclusive access to HALO's out-performing thematic share portfolios
Promoted by Halo Technologies
When you invest through HALO, you can choose from 26 thematic share portfolios designed by HALO's Head of Research, Clay Carter, helping your clients access a carefully selected basket of 10 international stocks in a single trade.   
HALO is a cost-effective way to help your clients invest directly in some of the world's biggest and fastest growing companies – supporting your advice model and your clients' goals. 
Beyond individual securities, HALO also features 26 thematic share portfolios that enable you to build client portfolios easily. Known as Vues, each 10-stock portfolio is designed to capture a key global trend, issue or investment style – from 5G wireless technology and clean tech to international high dividend stocks, or even Warren Buffett's top 10. Vues are only available on HALO. 
Each Vue is transparently constructed, with your client remaining the beneficial owner of the shares in their portfolio, so there are no hidden costs or unexpected divergences between market and portfolio performance. Either as part of a larger portfolio, or as a targeted exposure to capitalise on significant market trends, Vues can be an effective tool for engaging your clients and introducing them to global markets. Especially younger clients attracted to themes like luxury goods or the Internet of Things. 
Over the past 12 months a majority of Vues have significantly outperformed the broader market. Top performers include Big Oil (up 48.77%), 5G Wireless Technology (up 46.74%), High Quality (up 46.23%) and Luxury Goods (up 41.73%). The chart below shows how each Vue has performed.   
12-month performance of HALO Vues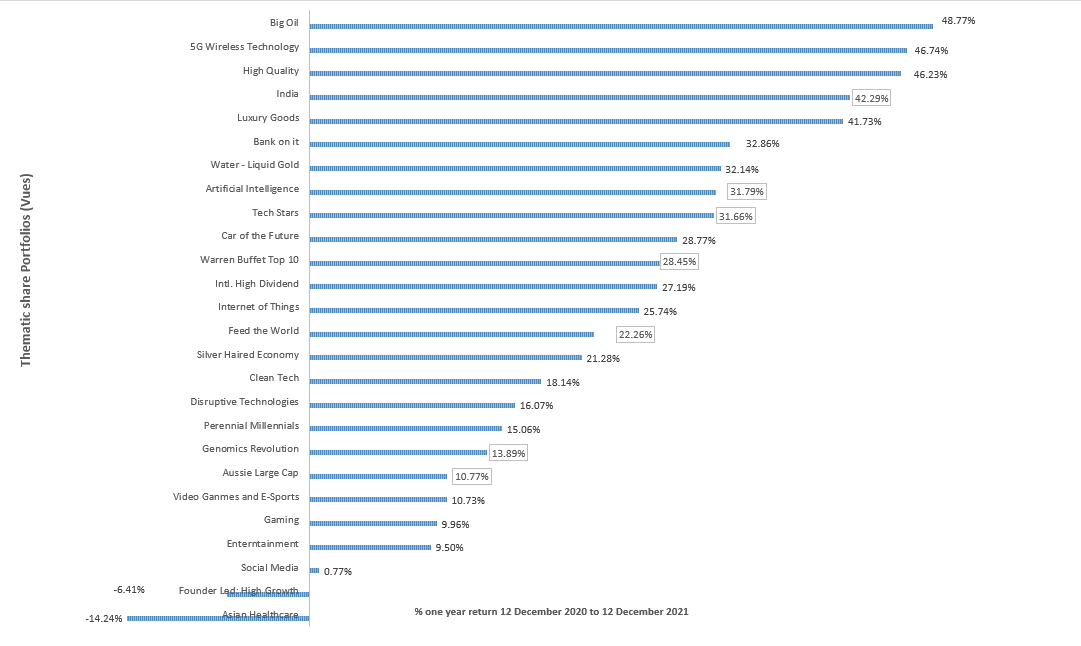 Source: HALO. Performance from 12 December 2020 to 12 December 2021. Past performance is no guarantee of future performance.
Register for a FREE Demonstration 
Learn more about the construction methodology underpinning HALO's Vues and how they have performed over time. Exclusive to advisers and investment professionals, this demonstration will also show you how your business and your clients can access HALO.    
To register your interest please click on the link below and a representative will be in contact.    
Important information 
HALO is a service provided by HALO Technologies Pty Ltd ABN 54 623 830 866 Corporate Authorised Representative 1261916 of Macrovue Pty Limited ABN 98 600 022 679 AFSL 484264. Macrovue Pty Limited is wholly owned by Halo Technologies Pty Ltd; both entities are subsidiaries of Amalgamated Australian Investment Group Limited ABN 81 140 208 288. 
Please read our Financial Services Guides which contain information about us and our financial services and our Privacy Policies available at www.macrovue.com.au and www.halo-technologies.com. 
The information in this article is of factual or general advice nature only and has been prepared without taking into account goals, objectives, financial situation or needs of any person. It is therefore important to consider an individual's financial situation, goals, needs and objectives prior to acting on any information or advice provided in this article.  
Past performance is not a reliable indicator of future performance. Investment in securities involves risk. Share prices rise and fall. The payment of dividends and the return of capital are not guaranteed. Investing in overseas markets exposes investors to additional risks including those related to movements in foreign currency exchange rates.