Adding Bitcoin to your SMSF portfolio with Digital Surge
A step-by-step guide to adding Bitcoin to your SMSF portfolio with Digital Surge, including guidance on fees, the recurring buy feature and security tips to empower your cryptocurrency investment journey.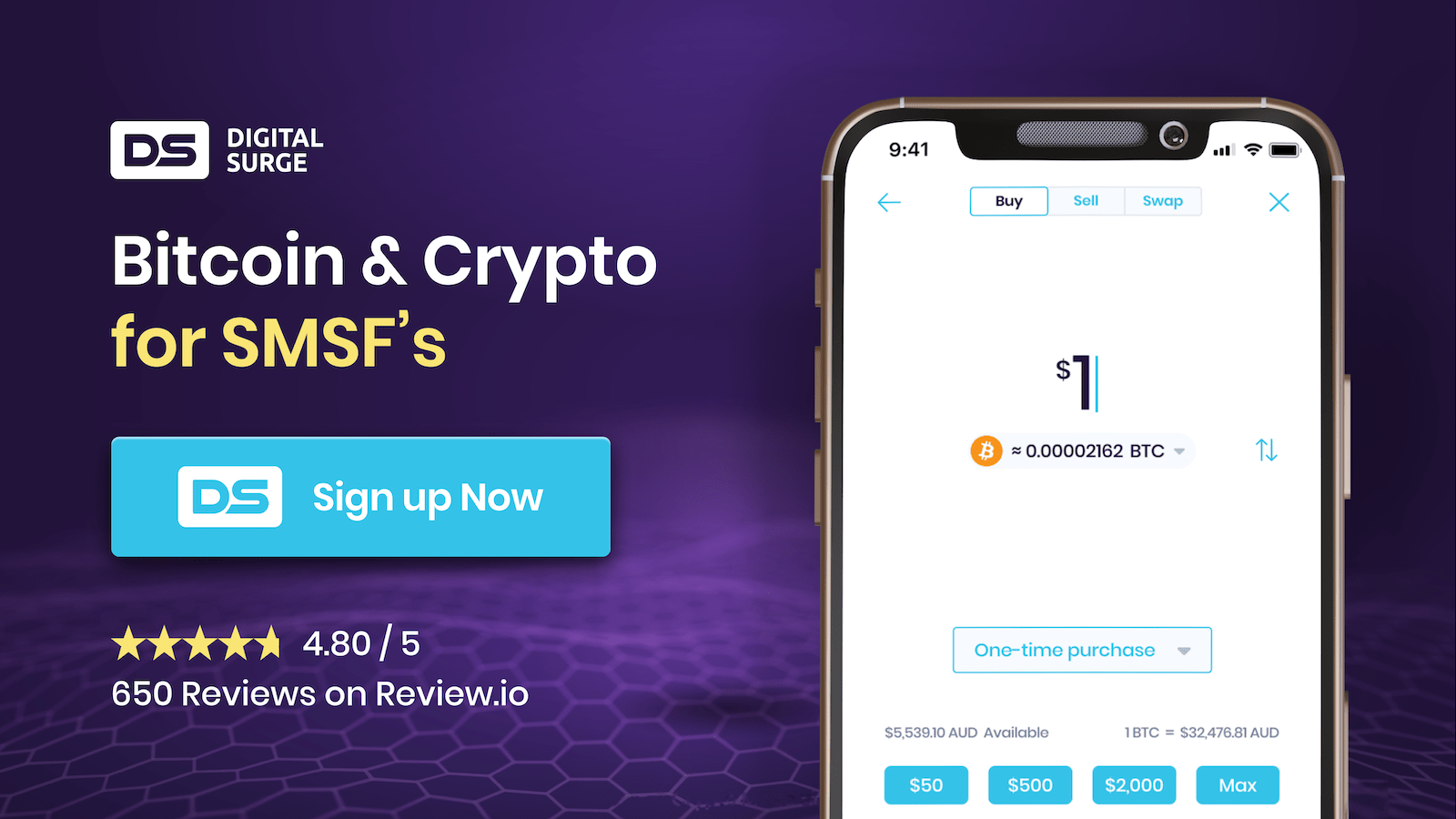 What is Digital Surge?
Digital Surge, an Australian cryptocurrency exchange, provides a streamlined platform for investing in Bitcoin and cryptocurrencies, offering users a user-friendly interface, robust security, and educational resources to simplify their digital asset investment experience. The platform is dedicated to simplifying cryptocurrency investments and assisting users in navigating the dynamic world of digital assets.
How to Buy Bitcoin on Digital Surge
Before purchasing Bitcoin through Digital Surge, start by signing up for a Digital Surge account and completing the registration process.
Create your account
Simply create an account with Digital Surge by entering an email address and password.
Verify your account
When completing your account verification, simply choose "SMSF" as your account type and you will then be prompted to complete verification process.
Details required to create an SMSF account include: SMSF name, ABN, trust deed document, trustee information, including ACN and director/beneficial owner information if a corporate trustee
Start trading
Once your account has been verified you will be ready to start trading Bitcoin and cryptocurrency with your SMSF.
Steps to Buy Bitcoin on Digital Surge
Adding Bitcoin to your SMSF portfolio with Digital Surge is a seamless process, consisting of three simple steps:
Access Your Verified Account:
Once your account is successfully verified. Log in through the mobile app or website using your registered email address and password.
Fund Your Account:
Before you can start investing in Bitcoin, you'll need to fund your Digital Surge account. You can deposit funds into your Digital Surge account through PayID transfers or standard bank transfers. As soon as your bank processes the deposits you will be credited and notified instantly.
Buy Bitcoin
With your account funded, you're now ready to invest in Bitcoin. Simply head to the buy & sell page where you will see real-time market prices and select Bitcoin. From there you can place a trade to buy Bitcoin, and that's it. You've just added Bitcoin to your SMSF portfolio.
Setup Recurring Bitcoin buys on Digital Surge
A recurring buy is an automated method of trading. It allows you to invest a particular amount into any coin on the platform at the frequency of your choice. This is a great way to automate your trades and Dollar Cost Average (DCA) your investments by streamlining the accumulation of Bitcoin over time.
Once you've set it up you have the freedom to edit or delete your recurring buy at any time. If you require any guidance or have questions, you can contact the live chat support team for prompt assistance.
Digital Surge fees for purchasing Bitcoin
Digital Surge offers a straightforward fee structure of 0.5% for each Buy, Sell, or Swap transaction. This means that regardless of the trade type you conduct on the platform, you'll incur a consistent fee of 0.5%, ensuring transparency in your cryptocurrency investments.
Security and safety measures offered by Digital Surge
The crypto industry is in a constant state of evolution, with security risks continually changing. Digital Surge conducts regular reviews and updates to its security systems to ensure the protection of your money and information. Robust measures have been implemented to safeguard your assets, including mandatory 2-Step verification for withdrawals, a highly sophisticated multi-layered security system, and a combination of hot and cold wallet storage for optimal functionality and protection.
Prioritising the integrity of your data, all website traffic is routed through encrypted SSL (HTTPS), and advanced techniques like hashed and salted passwords are employed in the database. Application credentials are maintained separately from the database and codebase, enhancing overall security. Furthermore, secure server and closed network environments are maintained to provide peace of mind.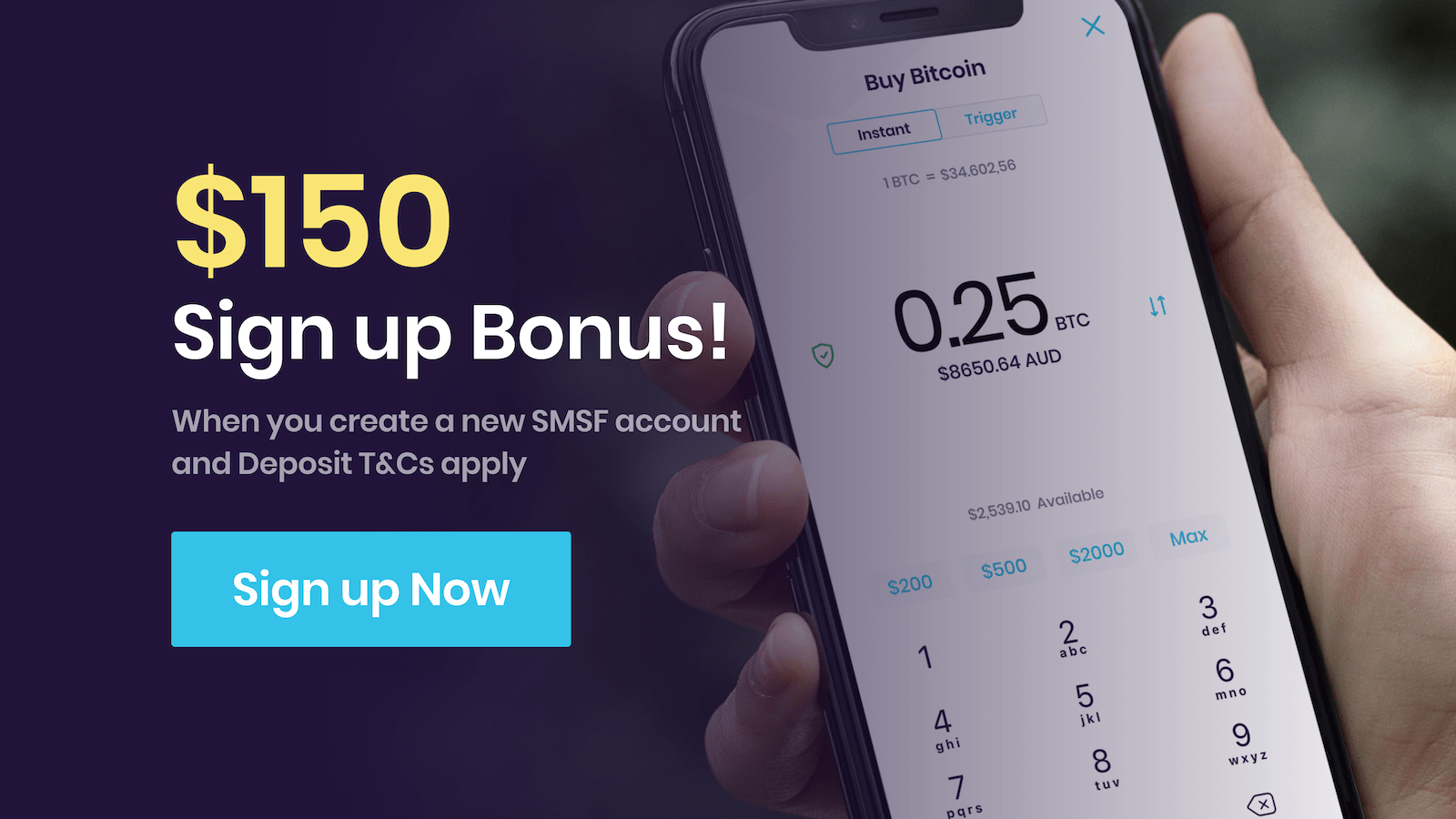 Kickstart your Journey to Financial Diversification
Ready to kickstart your journey to financial diversification? For SMSF Adviser readers who are ready to embark on their Bitcoin investment journey, we're running an exclusive sign-up offer at Digital Surge.
Create a SMSF account with Digital Surge using this link to receive a $150 bonus when you make a deposit of $1000. With Digital Surge, you'll have access to a user-friendly platform with expert support to help you kickstart your Bitcoin investments within your SMSF.
As you embark on your Bitcoin investment journey within your SMSF, keep in mind that success hinges on knowledge, wise decision-making, and an unwavering commitment to staying informed. Your journey represents a path toward growth, and by staying educated and seeking professional guidance, you can confidently navigate this dynamic financial frontier.
DISCLAIMER: The information on this email is for general information purposes only. It is not intended as legal, financial or investment advice and should not be construed or relied on as such. Before making any commitment of a legal or financial nature you should seek advice from a qualified and registered legal practitioner or financial or investment adviser. No material contained within this website should be construed or relied upon as providing recommendations in relation to any legal or financial product.