Do your business partners meet the 3 criteria to support your success?
The self-licencing trend has made the success of adviser businesses more closely tied to how well their service providers deliver. Desktop Broker's Head of Distribution Tim Sparks explains how advisers need to choose business partners, not service providers, to achieve success and sleep at night.
The advice landscape is rapidly changing. Boutique AFSLs represent a quarter of the industry.

Self-licensed firms have greater independence and control over business operations, costs and the services they offer. 

Self-licensees' firms also have an opportunity to select service providers and business partners.

When choosing a trusted business partner, there are a number of factors to consider including financial strength, proven experience, and customer support.
The mass exit of the institutions from personal financial advice has led to an explosion of small Australian Financial Services Licensees (AFSLs).
Already have an account? Sign in below:
According to research by WealthData, there are 1,600 AFSLs on the Financial Adviser Register (FAR) with less than 10 advisers.1
This cohort, which employs around 2,900 financial advisers, represents around a quarter of the industry.
The data paints a picture of a rapidly changing advice landscape.
Recent research from Investment Trends shows the explosion in advisers with their own AFSL which has more than doubled in a decade, while aligned business models have effectively halved and bank branch network advisers have all but disappeared.2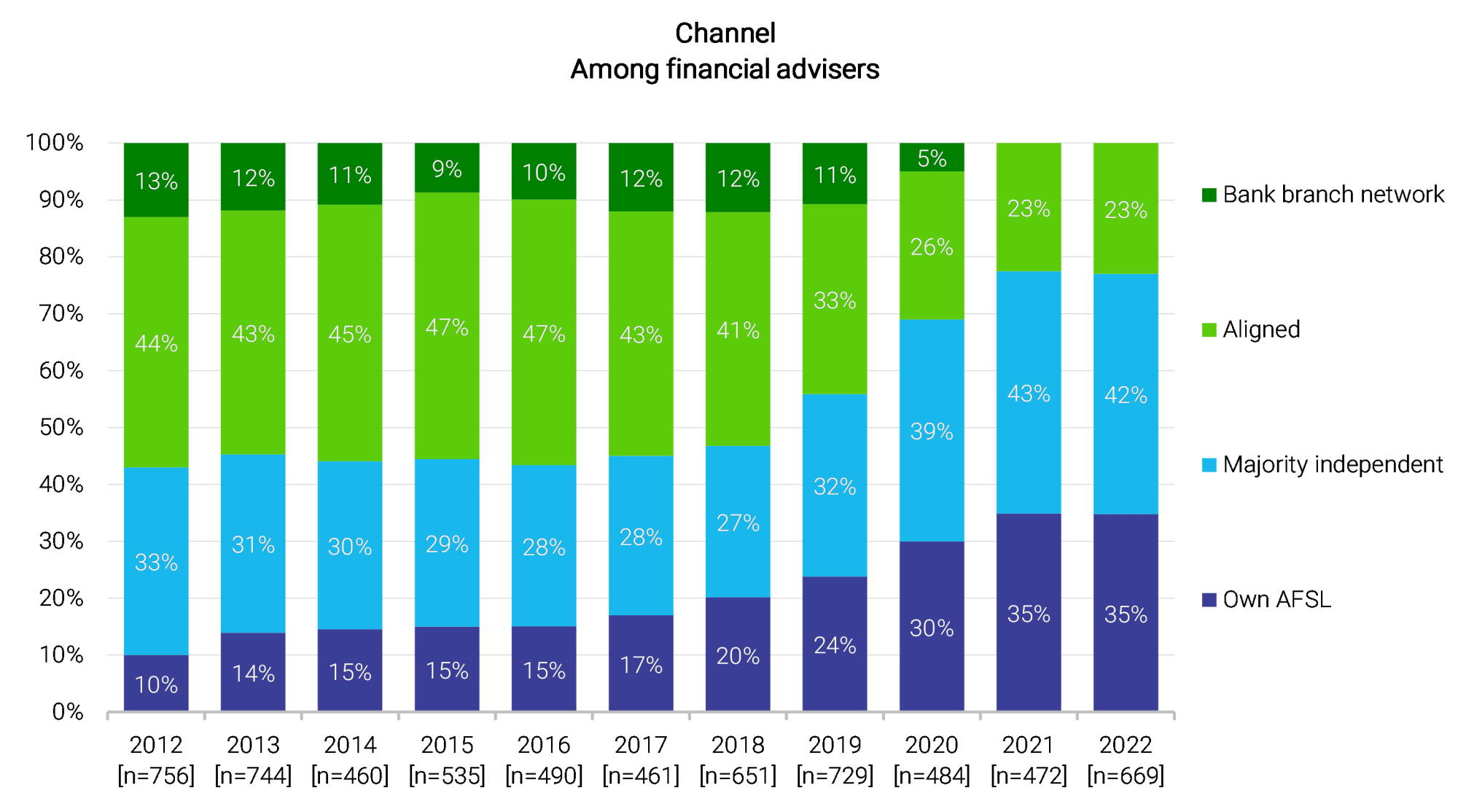 Source: 2022 Adviser Product and Marketing Needs Report
But in the years following the 2018 Royal Commission, the banks closed their dealer groups, forcing their advisers to find a new home.
Many successfully applied for their own AFSL.
The self-licensing trend has created advantages, opportunities and challenges for advisers. 
Advantages include greater independence and control over business operations, costs and the services they offer. For starters, they no longer have to stick to limited approved product and platform lists (APLs) but can offer a broader range of investment solutions including direct equities and managed discretionary accounts (MDAs).
There's also greater scope to customise systems and processes to meet their unique needs.
On the flip side, advisers must now perform functions previously provided by their licensee, such as payments, compliance and product research.
While many functions can be outsourced, AFSLs must first identify suitable solutions. They must then conduct due diligence on vendors including technology providers.
Service provider or business partner? 
In the same way that consumers are looking for a trusted adviser who understands their personal needs and will be around for the long term to look after them, advisory businesses also need to find trusted business partners. 
A trusted business partner is different to a service provider.
With a service provider, there's often little interaction. They may efficiently provide an important service but there's no dynamic communication, collaboration or value add.  
All too often with service providers, if the company changes direction or they simply don't want your business anymore, they stop servicing you or terminate your contract.
However, a business partner is invested in your business' growth and success, because they understand that your success and their success are inextricably linked.
They take the time to understand your unique needs, they are engaged and responsive, and act like an extension of your team. 
When choosing a trusted business partner, there are three key factors to consider:
Financial strength: Are they going to be around for the long term?

Experience and longevity: Do they have a proven track record?

Customer support: How are they building a strong relationship? 
Financial strength
Personal financial advice is a long-term proposition that spans accumulation, deaccumulation, retirement and beyond. Financial advisers commonly support their client's families with the execution of wills and the intergenerational transfer of wealth. 
Notwithstanding proposed regulatory changes, which aim to make it easier for more people to receive scoped and episodic advice, many people still want holistic advice and an ongoing relationship. 
They want a trusted adviser who will be there for them and their loved ones.
As such, advisory firms also need long-term relationships with their business partners. 
Advisers should look for business partners that are focused on the long term, with a strong balance sheet and profitable growth.
Some companies, particularly start-ups, will do unprofitable deals to get a foothold in the industry, but this short-term strategy is risky and unsustainable. 
In some sectors, such as technology, profit is not important but rather the focus is on growth. This strategy may appeal to speculative investors looking for a big pay day but for advice businesses looking for a long term business partner, a strong balance sheet demonstrates that a business has enough earnings to execute their strategy and achieve their goals.   
It is a sign that they are able to continuously invest in their proposition.
In the current operating environment, there is a heightened focus on efficiency, productivity and scale, making it imperative that businesses are able to invest in people, processes and technology.
Ongoing investment is critical to ensure businesses can continue innovating and meeting the evolving needs and expectations of all stakeholders including clients, shareholders and regulators. It is also critical for the effective management of ongoing risks including cyber-security.
Experience and longevity
So many brands have vanished from the financial services industry in the past decade. Some have been abandoned by their parent, others have been acquired and dismantled, and some have simply gone out of business.
In Australia, it is estimated that one in three new businesses fail in their first year, 50% don't last two years and three out of four fail within five years.3
They're grim stats, which highlight the importance of choosing a business partner that's been around for a while and has the right vision, strategy and team. They also need the ability to not only overcome obstacles like structural and regulatory disruption, economic uncertainty and a global pandemic, but can come out the other side in good shape.   
Those challenges breed experience. 
Ideally, a trusted business partner will have a stable, experienced management team; a clear vision and strategy; and robust systems, processes and governance.
In the context of today's global skills shortage, and a recent report from Allianz Australia revealing 2 million Aussies are set to quit their jobs in the next 12 months, a stable, loyal workplace is also more important than ever.4
Customer support 
Financial advisers are experiencing elevated levels of stress and anxiety, due to unprecedented structural and regulatory change, higher education and training requirements, and declining business profitability.5
To reduce stress, it is critical that business partners are easy to deal with, characterised by knowledgeable and responsive staff, and efficient systems and processes. 
While it can be difficult to accurately assess the quality of a vendor's customer support prior to signing a contract, signs of a strong customer-first culture include a vendor that takes the time to understand your business' unique needs and challenges; flexibility during initial discussions and negotiations; and a single point of contact to manage all questions and requests.
Running an advice business and AFSL is stressful enough without having to spend hours on the phone to resolve issues.
Ideally, a single point of contact should manage all requests and assign queries and tasks to the right person internally. They should oversee the process to ensure requests are managed and executed efficiently, and a strong lasting relationship is built.
Desktop Broker is a financially stable trading platform for financial advisers. Our experienced adviser support team can help you save time on investment selection, portfolio construction and compliance.
We can move your advice practice to solid ground. Simply organise a time to talk to us about what your business needs by clicking here.
1Small licensees now make up quarter of advice profession - Financial Newswire
2Investment Trends (2022), 2022 Adviser Product and Marketing Needs Report, Sydney. 
3https://www.uts.edu.au/sites/default/files/Start_me_up.pdf 
4https://www.news.com.au/finance/work/at-work/the-great-resignation-aussies-prepared-to-quit-six-figure-jobs/news-story/3588a4c0b4dcdd54a4cd6884930a8bcd 
5https://www.ifa.com.au/news/31193-adviser-stress-levels-significantly-increased-since-royal-commission-legislation