A 100-year event: The headline stats of Australia's economy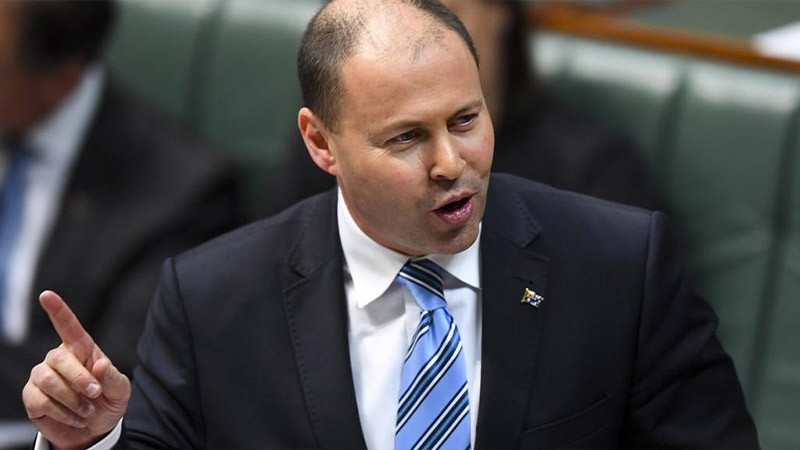 The Treasurer has provided some insight into the major financial upset COVID-19 has caused the nation to date.
Speaking to Parliament today, Josh Frydenberg provided a ministerial statement on the economic impact of the crisis, observing that "Australia finds itself at war against a faceless and flagless enemy".
Already have an account? Sign in below:
"The coronavirus has created a 'one in a 100-year' event," he began.
Headline figures
Not only an enormous health challenge, Mr Frydenberg said Treasury figures reveal Australia is headed for its biggest GDP fall on record – with GDP expected to lose more than 10 per cent in the June quarter alone.
"At $50 billion, this is a loss equivalent to the total combined quarterly production of South Australia, Tasmania, the Northern Territory and the ACT."
He also reiterated the forecast of 10 per cent unemployed over the same period – or 1.4 million people.
"This 5 percentage point increase in the unemployment rate is expected to occur over three months compared to the three years it took the unemployment rate to rise by the same amount in that devastating period of the early 1990s," the Treasurer commented.
Treasury figures are also pointing to "sharp falls" across household consumption, business and dwelling investment.
According to Mr Frydenberg, "the combination of social distancing, lower incomes and increased uncertainty is weighing heavily on aggregate demand and flowing through to reduced cash flow".
The June quarter is likely to see falls of around 16 per cent to household consumption, 18 per cent less business investment that is heavily concentrated to the non-mining sector, and 18 per cent less dwelling investment.
At the same time, the Treasurer expects some countering to occur – with household savings expected to increase as a result of restrictions "and an understandably cautious approach by households to discretionary spending".
'Sobering' economic data
Mr Frydenberg went on to comment that, "overall, the economic data has been sobering".
Business and consumer confidence saw its largest declines on record in March, while the ASX 200 had more than a third of its value wiped out in a little over four weeks.
Across April, job ads halved, while construction, manufacturing and the services sector all recorded their largest-ever monthly falls in activity.
New motor vehicle sales have fallen by 48 per cent through the year, while house sales are down by 40 per cent.
Mr Frydenberg added that domestic and international air travel is down by more than 97 per cent – just 31 passengers made their way through Brisbane Airport on Easter Sunday after almost 40,000 travellers had done so in 2019.
"Against this backdrop, between the 14th of March and the 18th of April, the number of jobs decreased by 7.5 per cent and the wages bill paid by businesses decreased by 8.2 per cent," he continued.
During this period, accommodation and food services saw the largest fall in jobs at 33.4 per cent, followed by the arts and recreation sector at 27 per cent.
The budget
According to the Treasurer, "the scale of the economic shock is hitting the budget bottom line".
March's monthly financial statements provide the most recent data on the budget's positioning, with Mr Frydenberg revealing that to the end of March, the underlying cash deficit was $22.4 billion.
This is $9.9 billion higher than what was forecast in the mid-year economic and fiscal outlook (MYEFO), with tax receipts also $11.3 billion lower than previously forecast.
Noting stimulus and legislative measures as continuing to ramp up, Mr Frydenberg observed that since the MYEFO, the total face value of Australian Government Securities on issue has increased by more than $50 billion from $560 billion to $618 billion as of 8 May 2020.
He flagged that an updated economic and fiscal outlook will be provided in June, following the release of the March quarter national accounts.
The budget is then expected to be delivered in October.
Update on government stimulus
To date, 1.29 million early release of super applications have been released by the ATO, equating to about $10.6 billion, with an average withdrawal of $8,000, the Treasurer outlined.
Deeming rates have also been lowered at both the lower and upper levels – to 0.25 of a percentage point and 2.25 per cent – at a cost of $876 million.
Some $200 billion in loan repayments have also been deferred, "the majority of which are residential mortgages".
Mr Frydenberg reported that there are now more than 835,000 businesses employing more than 5.5 million workers formally enrolled in the JobKeeper program.
In addition, more than 450,000 small and medium-sized businesses have now received over $8 billion under a cash-flow boost program.