SMSF cash flow modelling gives the numbers you need for the best decisions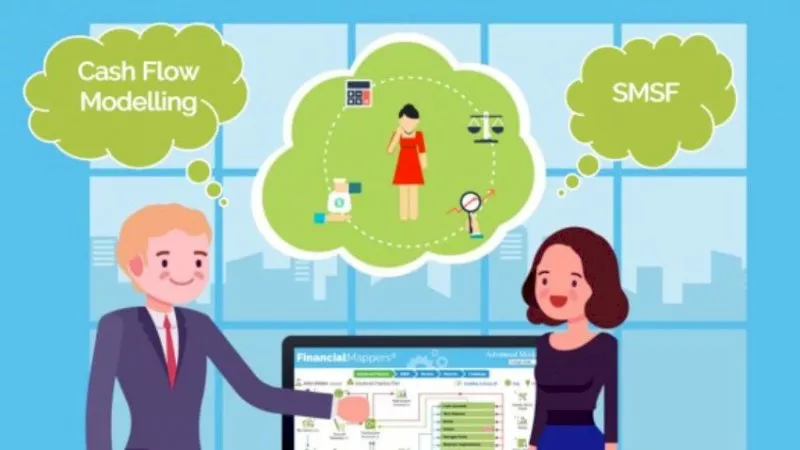 Promoted by Financial Mappers.
Advanced cash flow modelling software for advisers and SMSF specialists gives immediate answers to the difficult questions and brings tremendous practice efficiency, time and cost savings.
Cash flow modelling software is not account or balance tracking software.
Financial Mappers is modelling the future under different circumstances, in order to advise optimum strategies and outcomes for the client. The software can be integrated with any CRM.  A simple Statement of Advice can be prepared.
SMSF is integrated with all the client's personal and investment cash flows, together with setting goals and financial targets.
Does Excel still "Cut It" for SMSF cash flow modelling? 
Many advisers are reluctant to give up those Excel workbooks which took years to develop.
Up until now, advisers may have found it difficult to find cash flow modelling software which gives enough options to accommodate their specific demands.
I recently had a conversation with the head of a combined advisory group concerned that many of their advisers were still using self-designed Excel workbooks as their tool for calculation of general and SMSF cash flow modelling.  He felt that the group could not assess the accuracy of these workbooks and required more consistent, compliant, and swift acting software.
An article, published in the Wall Street Journal, sparked the great debate on the pros and cons of Excel versus cloud-based modelling software.  The most memorable quote from one accountant was:
You can have my Excel, after you ripped it from my cold, dead hands
Cash flow modelling software provides new solutions for SMSF analysis
Nearly always advisers start our conversation with "Can your software do this, or can it do that?", I can confidently answer "Yes" for all common requirements.
Simple inclusions for our SMSF are modelling for two-member funds and allocating funds by both contribution type and asset classes.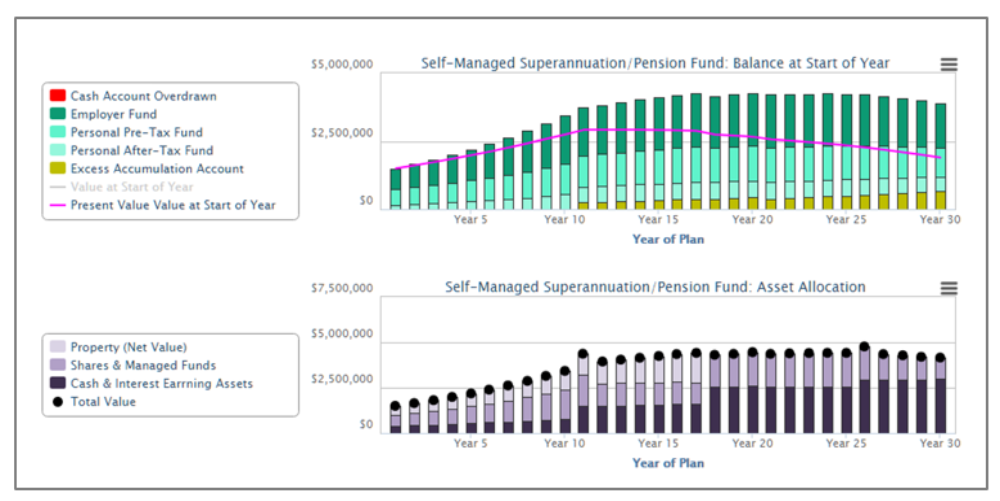 Our SMSF cash flow modelling allows easy creation of a plan based on client investment preferences, asset allocation, and risk profile, any of which can be changed over the length of the plan.
The first graph displayed below shows the account moving from a High Growth Investment Profile to Balanced and finally Conservative.  In this case, assets are held in cash, domestic equities and a property which is sold in Year 16.  The percentage of Growth Assets have been aligned with the Risk Profile for different periods.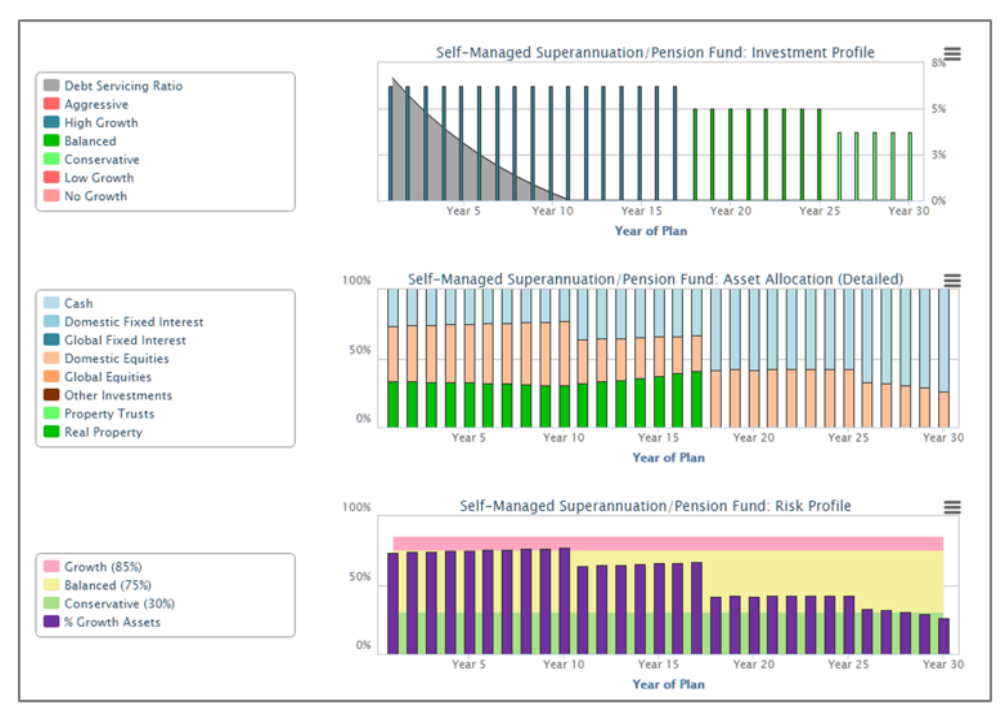 SMSF Cash flow modelling tools demonstrate complex situations and strategies
In the accumulation phase, managing contributions within the government's strict rules is now simple.
For your high net worth client with a low-income spouse, Spouse Contributions and Government Co-Contributions may apply.  Where else can you show value to your client with a guaranteed 18% return by using the Spouse Contribution, or a 50% return where the spouse is eligible for the Government's full Co-Contribution?
The high-income client may be subject to the surcharge on contributions now or in the future.  Plan for optimum contribution strategies prior to reaching the surcharge point.
During Transition to Retirement, strategies can be demonstrated for continued contributions while drawing down a pension. Re-contributions for optimization of the non-concessional portion can be explored.
Strategies for the Transfer Balance Cap include the isolation of funds to be retained in the accumulation phase.  The adviser can also provide drawdown strategies for the funds held in both the pension and accumulation accounts.
With our cash flow modelling software an adviser can quickly estimate all of the above and moreover, demonstrate it simply to the client.
Here are some more strategies which can be modelled with Financial Mappers:
Construct complex tax strategies and timing by co-ordination with the income streams and assets held outside SMSF

Demonstrate risk sequencing and strategies for minimization or correction

Build a layered income stream in retirement which includes social security

Use different drawdown methods and toggle between them to select the best choice, which may be in any of the following:

Years for funds to last

Percentage of funds withdrawn per year

Annual dollar amounts, plus 

An additional drawdown when required.
To find out more about Financial Mappers, follow the link.
Tell Me More