Looking to provide your clients with exposure to Global Markets?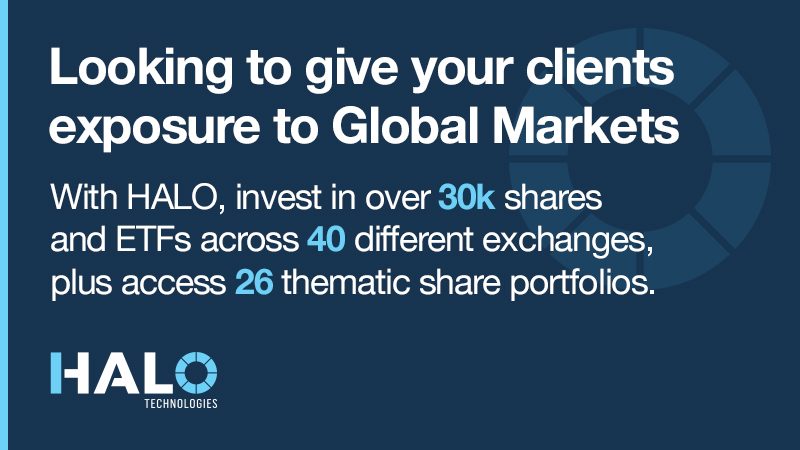 Promoted by HALO Technologies
The HALO Global Research and Investment solution is cloud-based technology that has been developed by the market professionals at HALO Technologies.  The solution offers global company and market insights coupled with a market-leading omnibus and custody trading interface making it one of the most powerful investment tools on the market today.
Already have an account? Sign in below:
HALO delivers institutional-grade analytical research tools to Advisers and Investment professionals, allowing them to make informed and confident investment decisions.   
With HALO you can invest in over 30,000 global equities and ETFs across 30 different exchanges – including the ASX, NASDAQ, NIKKEI and more. It has never been simpler to invest in the world's biggest and fastest growing companies.  
Also exclusive to HALO are 26 thematic share portfolios, called Vue's.  The Vue's allow you to provide clients with access to some of the most innovative and well-known companies.  Each Vue contains 10 companies designed to give exposure to a global trend, issues or an investment style.  
Vue performance over time
Over the past 12 months a majority of Vue's have outperformed the more traditional investment styles.  Some of the top performing Vues include Big Oil +90.46%, Car of the Future +81.58%, Bank on it +56.18% and Genomics Revolution +52.85%.   


Source: HALO Global Research & Investment (One year returns for period 26/10/20 to 26/10/21
Adviser and Investment Professionals also have access to a range of research reports providing market insights and recommendations from HALO's Head of Research, Clay Carter.  
Request a copy of the Global Trading Report
If you would like to explore HALO Technologies provide us with your details and one or our representatives will contact you.