[On Demand Webinar] Why engagement letters matter in 2021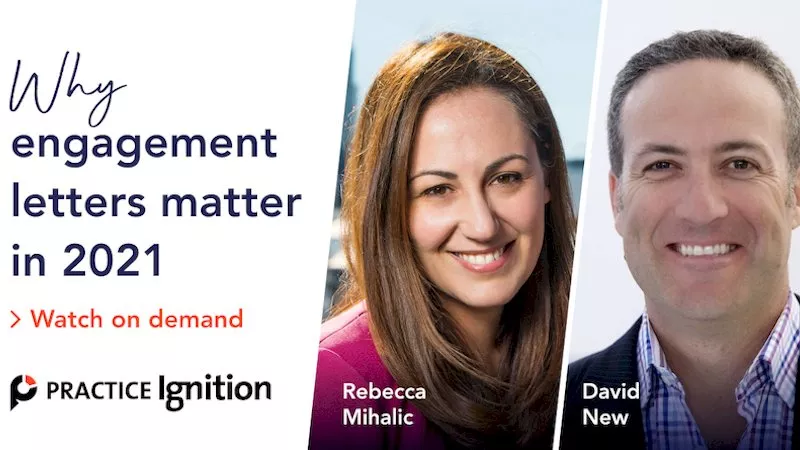 Promoted by Practice Ignition
Watch this webinar on demand to learn why engagement letters are so important to protecting your business in 2021 
2020 has been a challenging year to say the least! Accountants and bookkeepers did what they needed to do to help their clients survive! 
As a result you might have left yourself exposed to compliance risk and payment default by not having signed engagement letters in place. Start 2021 on the right foot with signed engagement letters in place, and a certainty of being paid for your hard work. 
Join Rebecca Mihalic, CA, Director at businessDEPOT, and David New, Head of APAC at Practice Ignition, for this on demand session to discuss the value of engagement letters, the essential elements of an engagement letter, and how practitioners can streamline this process end-to-end. 
During this on demand session you'll learn: 
How to standardise terms of service 

Key elements of your engagement letter 

When to use engagement letters 

How to protect yourself from payment default 

How to automate this process end-to-end 
Start your free trial to access Practice Ignition's sample engagement letter template plus 40 accounting and bookkeeping service descriptions and recommended pricing. 
Hear what our customers are saying: 
"Practice Ignition is an integral part of our business. It's taken our proposal to client journey from hours to minutes!" – Alan Woods 
"I have never had a bill unpaid. I have used Practice Ignition since starting my business. What a great help!"
– Kay Godfrey (First Class Tax & Advisory) 
"My clients love the look and ease of the proposals making the process all the better." 
– Catarina Santini