Are you looking for alternative ways to grow your client's capital?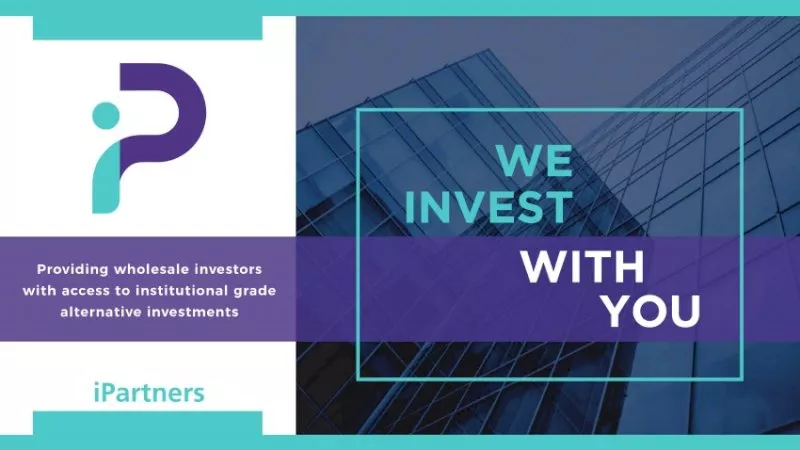 Promoted by iPartners.
As one of Australia's leading alternative asset investment platforms, iPartners exists to provide wholesale investors with direct access to institutional grade alternative investments by co-investing alongside reputable partners, across a range of asset classes.
Established in mid-2017 by experienced investment professionals Travis Miller (ex UBS, Deutsche Bank, ANZ) and Rob Nankivell (ex JPMorgan, Macquarie, CBA), iPartners has raised over $100 million in investor funds via our in-house technology platform. Leveraging our significant capital raising experience, our purpose-built platform aligns all parties, offers complete transparency, and helps to facilitate portfolio diversification on an attractive risk/return basis.
As part of this investment philosophy, we aim to provide unique investment opportunities in asset classes that have historically been inaccessible to regular wholesale investors who are not of large family office or HNW size. iPartners was born from this idea that every wholesale investor should have the opportunity to invest in these assets. With a minimum investment of $10,000, you can invest in a property deal on the same terms as the developer, giving you attractive return opportunities to grow your wealth, without having to outlay large sums of money.
To ensure that both clients, staff and the investment manager are aligned, iPartners investors co-invest via a unit trust alongside successful managers with significant 'skin-in-the-game'. Our unit trust registry system means that all investments are made as one investor through the iPartners Sub Trust, which we believe ensures there is maximum transparency across all of our investment opportunities. iPartners manages the unit registry on behalf of our clients.
How do we add value to your clients user experience?
Package together a variety of investments to suit all risk profiles
Our platform has an easy to use, fully integrated online client portal, including investment reporting module
We have a proven track record of investment and manager selection
We provide alternative asset returns, uncorrelated to equity market performance
A strong technology infrastructure, risk management and compliance framework designed to deliver effectively on investor requirements
How we invest
Alignment –

 

we find experience investment partners and co-invest with them
Private Assets –

 

we source investments where the risk / return is biased towards us as investors
Choice –

 

select from a range of asset classes to create an alternatives portfolio
Investment Amount –

 

tailor your investment amounts to reduce investment risk and facilitate portfolio diversification
Liquidity –

 

access daily secondary market liquidity 
Proven track record – our recent Maturities
Teneriffe

 

senior secured loan - 10% p.a.
STARS1 -

 

ASX equity basket trade - 11.25% p.a.
Arncliffe -

 

secured bridge loan - 9.05% p.a 
Rouse Hill -

 

secured construction loan - 10% p.a.            
Find out more
To find out more about how we can help you grow your offering, follow the link or contact This email address is being protected from spambots. You need JavaScript enabled to view it. for more information.