When Fear is in your favour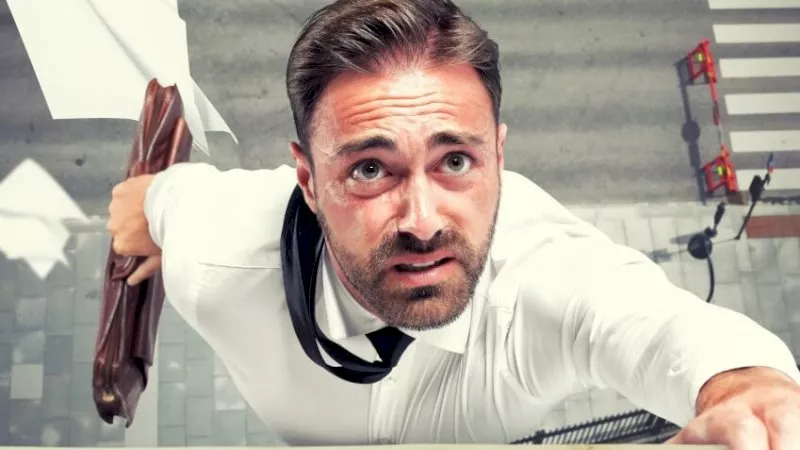 Promoted by Perpetual.
It's a cliché to say that markets are driven by "greed and fear".  But as English musician Lloyd Cole sang, "The reason it's a cliché is because it's true."
Sometimes fear is what makes the market value a company incorrectly – and that's when Perpetual starts to pay close attention. Over the past year we have been able to buy good stakes in good stocks because fear has driven the price down to levels where a value investor like us is comfortable taking a big position. We expect the same to happen as a result of the recent correction.
Vipshop (VIPS) is a recent addition to the Perpetual Global Share Fund and is now one of our biggest positions. It is a good example of how we invest during a period of fear. It's fear that led to a mispricing of the asset, creating the opportunity.
Vipshop is the leading online platform for discounted branded apparel and has a 9% market share of the online apparel market in China. We have been monitoring the company for a number of years. The company's sales have been growing at a tremendous pace. Indeed its 2018 sales are expected to be double the level they were in 2015. Yet the stock price has been going the other way – it's now at half its 2015 peak.
 Why?
The company has been investing in its logistics and warehousing capability and is in a unique position in that it actually completes 90% of the last mile delivery for the apparel that it sells. This enables them to deliver their product to the end customer in a quicker time than apparel purchased on Alibaba. That logistics and  warehousing capacity has been added to ensure that they can keep up with the 20%+ rates of sales growth they are generating. It's had a short term impact on their operating margin, but makes perfect business logic.
 Big numbers
The equity market's short term focus saw the stock fall from $15 in May 2017 to $8 in November 2017. We managed to quickly accumulate a position but were not the only ones who could see what the market was missing. Two of China's ecommerce leaders, JD.com and Tencent, also announced an investment in Vipshop in December. That has seen the stock rally over 50%.
Vipshop has also entered into strategic agreements with these companies. It will have access to Tencent's Weixin Wallet, giving Vipshop exposure to Weixin's 980 million monthly active users. JD.com will also assist Vipshop grow their sales and user base through the JD.com platform. Vipshop currently has 60 million active customers.
Business logic
Vipshop fits a number of our investment criteria.
It is led by an experienced management team who own a significant amount of stock. Eric Shen and Arthur Hong are the co-founders and have done an exceptional job in growing the business over the past decade.

The company has a strong balance sheet.

It has a leading position in an industry with growth potential. Vipshop is a leading discount retailer of branded goods in a market where discount retail is still in its infancy.
Finally as you can see in the following table, Vipshop trades at a significant discount to the valuation of other online retailers globally. As Vipshop continues to grow its sales and its operating margin starts to recover, this will drive strong earnings growth and we expect this to push up the multiple of earnings investors are prepared to pay for the stock.
Vipshop valuation vs global ecommerce peers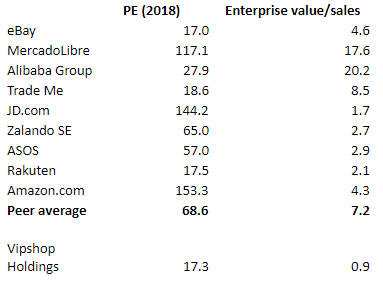 Source: Factset

Keeping your head when all about you are losing theirs
Our Vipshop investment illustrates a number of elements of our investment philosophy.
Firstly, we are attracted to companies using the latest technologies to capture high rates of growth in big and growing economies. Chinese ecommerce is a classic example.
Visphop is not the only company we have bought into because bouts of fear have driven the price down to levels we liked. Chinese auto portal, Autohome, was our best performing stock in 2017. While the business has gone from strength to strength since our initial investment in its initial public offering in 2013, the market's sentiment towards the stock has wavered year to year and so has the stock price. In 2017 improving market sentiment saw the stock rally from $25 to $65.
Autohome illustrates another principle – you need to be careful not to take advantage of other's fear and then fall foul of your own greed. We have now sold out of the stock as it has reached our valuation target. Similarly, we have owned 21st Century Fox for a number of years because we see a lot of underlying value in content assets like Fox News, their film studio and international assets such as Star India and BskyB. Fox is now in talks to sell the majority of their assets to Disney. Following a 40%+ price appreciation in the stock over the past few months, we have decided to sell out of this position as well.
Like to know more about the Perpetual Global Share Fund? Visit www.perpetual.com.au