A Local Hero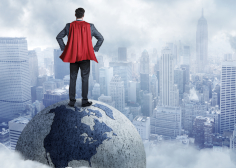 While the firm has a strong community focus and humble beginnings in regional Australia, Power Tynan has been expanding its services for half a century. Chris Kennedy reports
In 1969, Power Tynan started out as an accounting practice in regional southern Queensland, but the firm has since spread its wings to encompass a full suite of planning, tax and accounting services in three locations.
Its home was Stanthorpe, a town of little more than 5,000 people nestled on the NSW border, around 200 kilometres southwest of Brisbane. However, the firm has since opened its doors in Toowoomba and Roma.
Power Tynan's chief executive, Paul Hilton, joined the firm back in 1992 to start up the Toowoomba office. "We just opened the doors and built it up from there," he says.
Mr Hilton is a qualified accountant and has previously worked for Perpetual Trustees in taxation, corporate services and financial planning. That background proved to be a strong asset when Power Tynan introduced financial planning to its services.
It also allowed the group to include SMSFs in its service offering, but with the growth and increasing complexity of the sector, Power Tynan has since segregated its SMSF practice into a specialised service, predominantly for internal clients (although it does also offer administration services to external clients).
"Eighty per cent of the SMSF work we do is for our internal clients and approximately 20 per cent is external – either working for other accounting firms or other financial planning firms, doing their administration for their SMSF clients," Mr Hilton says.
As with many SMSF businesses, SME clients are a key focus.
"With SMEs, part of their strategic planning for retirement and business growth is to put money into super; once it's of a certain size they start an SMSF if that's what they desire," Mr Hilton says.
"We found most SMEs like to have a bit of control of their super fund because they're independent already."
Where an SME client has a self-managed fund, it is extremely important for the accountant to be strategically aligned with the administrator and the adviser, he adds.
"We all need to be on the same boat, paddling in the same direction – that's just so important," Mr Hilton says.
In the current environment, larger businesses find it easier to stay on top of an endless wave of technical and regulatory updates, he adds, drawing a parallel with the healthcare general practitioner profession.
"There's not many of those operating by themselves now, whereas 30 years ago there were lots operating out of their house," he says. "But they're all in big firms now because of the infrastructure required, and the need to service clients 24/7."
Accountants also need to be available constantly – "and you need to be able to have holidays as well. It's so important for your longevity within the business and the profession," Mr Hilton says.
Power Tynan has a dedicated staff member in charge of professional development and takes a pro-active approach to knowledge sharing within the business.
"Quite often, if we have a particular issue with a client, we'll call in three or four advisers and sit in a boardroom and come up with an answer – we try and brainstorm some solutions," Mr Hilton explains.
"I'd say once a fortnight or every three weeks you'd see a group of people in the boardroom with a whiteboard trying to solve problems."
The community is very important to the business and Power Tynan has even set up a charitable trust to support local causes.
"We donate around $20,000 per year to local charities," says Mr Hilton. "The money is raised internally by staff on various fundraising activities. Every six months we donate about $10,000 to three charities that the staff choose."
The money is raised through events such as lunch and morning tea fundraising drives, as well as via staff salary sacrifice.
Looking to the future, Mr Hilton says the group is "always actively looking" at expanding, whether via client growth internally, external client growth or acquisition. However, business decisions obviously need to be supported by the various equity owners, he adds.
"We have 10 equity owners and they [all have] various levels of equity. We run [the business] on a corporate model where we have three directors. I'm the CEO on the board of directors and we have an external chairman," Mr Hilton says.
"We're very active in our succession plan," he adds. "In our board meetings we probably talk about it every third board meeting, so it's really front of mind."