Practice Profile: Fiercely Independent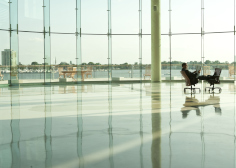 Sekou Seasay of Frontier Wealth Advisers speaks to ifa's Aleks Vickovich about ethics, theology and financial planning.
Growing up, Sekou Seasay never envisaged himself offering financial advice in suburban Sydney.
From his childhood in the war-torn West African nation of Liberia to an adolescence spent studying Islamic theology in Saudi Arabia to his early working life trading derivatives in Kuala Lumpur, Seasay's path has been a well-travelled one.
But it has also been no accident.
When Seasay first visited Australia as a university student in 1998, he fell in love with a country that reflected his own values. "For me, the most important thing in life is being free to do what you feel is right," he says.
Five years later, as a freshly-arrived migrant and newly-qualified financial planner, he launched Frontier Wealth Advisers, with that same commitment to freedom in mind.
He first became aware of financial planners when working in the securitised Islamic debt obligation – or sukuk – department of the Bank Islam Malaysia Berhad, and was envious of the strong relationships that planners forged with retail customers – as well as the real impact they had on lives.
Though he had developed a love of finance and economics, he yearned for a job with a more human element.

With his international education and background as a trader, Seasay had no trouble getting a gig with the big end of town during his first years in Australia, working as a para-planner and adviser both at AMP and St George.
But while he had achieved his twin goals of moving to Australia and becoming a financial adviser, something was missing: "On the plus side, I was comfortable, learning lots and, by and large, my clients were walking in the door," he says. "But on the downside, you have to sacrifice your ethics and your freedom."
For someone who once considered a future as a religious scholar, ethical breaches are no laughing matter.
For Seasay, a financial adviser can only truly provide his client with sound and ethical advice as an independent.
"From my experience working for the banks I came to believe that there is a fundamental flaw with the financial planning models of the major institutions," he explains. "The philosophy is that the only value proposition as a planner at a bank is to sell a product. How can you provide honest, unbiased advice when you are really just trying to sell one product?"
Being in private practice and unaligned with any dealer group has, he says, allowed him to have "an unlimited range of possibilities" to offer his clients. It has also allowed him to pursue his interest and qualifications in Islamic finance – an area of financial planning practice he thinks is under-tapped in Australia.
"The population of Muslims in Australia is about half a million, so the market is there but the products are not there," he says. "There is currently only one Sharia-compliant superannuation fund and apart from that there is nothing," he adds, referring to the Islamic superannuation option recently launched by Crescent Wealth.
While independence has ensured his freedom, Seasay admits it has not always been an easy ride. He lists client lead generation and retention as particular challenges.
However, as an eternal optimist, he has come up with innovative referral partnerships with accounting firms and email marketing via Mailchimp to tackle these obstacles head on.
He is also embracing the changes brought by the Future of Financial Advice reforms with open arms, arguing that they will clean up the industry and create opportunities as some planners jump ship.
"The future is still bright," he says. "The years ahead are the years of the independent financial planner."